A Unique Interactive Theatrical Experience!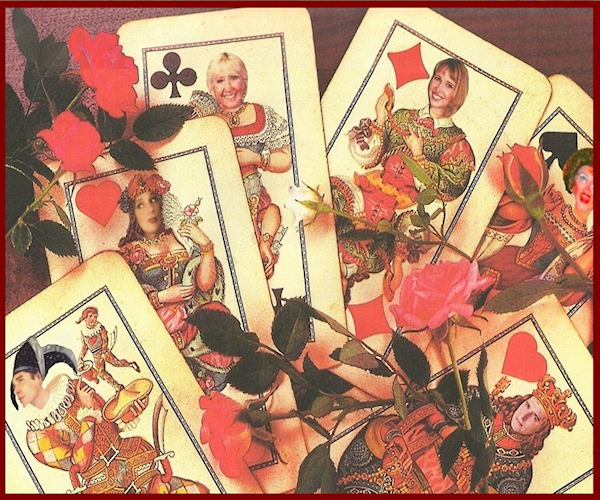 The mission of The Red Rose Parlour Theatre Company is to offer quality entertainment with our unique interactive twist! Our one hour productions have been performed in venues as varied as acclaimed local theatres, retirement homes and even private parties! Our one of a kind style of entertainment can be tailored for every location and any occasion!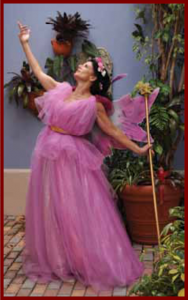 OUR SHOWS

LA DIVINA
A combination of comedy and culture that creates an enjoyable show for opera and non-opera fans alike!
A soprano making her debut at the Metropolitan Opera is hit on the head during a freak onstage accident involving an overweight diva and an inexperienced stagehand. As a result the poor chorus soprano is convinced she is the famed opera diva, Maria Callas. 'La Divina' now tours the country aided by the guilt ridden stagehand. Certain that she is still performing on world famous stages; Maria invites audience members to become assorted characters from her most famous arias.
---

KEMP'S JIG
The nine day wander! Elizabethan, educational and incredibly entertaining!
A traffic jam causes a member of the company to be late. To stall for time, the cast members present a story about Will Kemp, Shakespeare's most famous clown. Merely the mention of the moniker conjures Kemp from the afterlife! Sir William recounts his famous historical attempt to Morris dance from London to Norwich in nine days! As he recounts his adventure, Kemp re-enacts some of his favorite and most famous Shakespearean roles. As he dances from town to town, Kemp delights and interacts with the 'townsfolk', (audience), inviting them to join in on the fun!
---
THE LANGUAGE
OF LOVE
Ponder upon what it truly means to love for a lifetime.
Cartoon character, Feiffer's Dancer, introduces, through her emotive and unique interpretive dances, songs, sonnets and scenes of Shakespeare.
Using selected material from the Elizabethan, Restoration and Victorian eras, Follow our heroine as she guides us through the lifetime of love from it's inception to its maturity!
---

FOOLS FOR LOVE
Five Shakespearean scenes sown together through the theme of love.
Follow some of Shakespeare's most famous, (and infamous), FOOLS as they weave together five timeless tales of Shakespearean love! This action packed and entertaining hour of Elizabethan song, scenes and dance is a show you will not soon forget! Excerpts are taken from five of the 'bawdy bards' most memorable plays including; Twelfth Night, As You Like It, Merchant of Venice, Merry Wives of Windsor, and Midsummer Nights Dream!
---

WILLY NILLY
An interactive variety of Shakespearean scenes.
From romantic comedy to farce to tragedy, Willy Nilly offers a variety of Shakespearean works all in one show!
Elizabethan scenes, songs and dances our combined with our one of a kind interactive twist.
Featured scenes are taken from Much Ado About Nothing, Merry Wives of Windsor and Richard III
---

THE MAIDS
A musical melange of your favorite Broadway hits!
An audience awaits the arrival of a famed matinee idol. While cleaning the performer's dressing room, two maids discover a stage trunk full of props and costumes. Quickly, it becomes apparent that both are frustrated performers as they begin to fantasize and enact songs and scenes from their favorite productions with the audience. Both enjoy pretending to be 'paid actors', but what happens when the "star" shows up to find that his dressing room has been commandeered for this impromptu performance? This hilarious romp is a fun filled escapade from Gilbert and Sullivan to Andrew Lloyd Webber!
---
ABOUT US
SEVA ANTHONY
After an extensive career in dance and circus, Séva turned to drama in 1993. She trained at the Royal Academy of Dramatic Art in London and studied Shakespeare with acclaimed instructor, John Barton, at Balliol College in Oxford.
Her credits include four seasons at the Oregon Shakespeare Festival and in New York at Shakespeare in Riverside Park. Locally, she has performed leading roles at the Banyan Theatre, Historic Asolo and at American Stage. Séva is also a member of the St. Petersburg Opera Chorus and loves to teach drama and dance to seniors.
---
RAFAEL PETLOCK
A former Equity, SAG member and NYC veteran of 15 years. New York Equity Off – Broadway credits include lead roles in Andrew My Dearest One, A Better Life, The Great Kickin Dog and various lesser roles in several other productions.
Television credits include featured roles on episodes of Law and Order SVU, As the World Turns and The Guiding Light. Local credits include award winning roles in Titanic and Terra Nova.
---
CAROLINE COX
Has years of experience on the stage in both drama and musical theatre in the US and the UK. A native Londoner, Caroline trained at the Royal Academy of Dramatic Art.
Her work includes performances in professional repertory theatres. She has portrayed such roles as Elinor of Aquitaine in A Lion in Winter and Lettice in Lettice and Lovage.
---
CARLO THOMAS
An internationally acclaimed vocalist recommended by famed Broadway producer and director Hal Prince.
A member of the cast of the Broadway national production of Phantom of the Opera starring Michael Crawford. He has performed in numerous opera companies. Currently, he is a producer and vocal technician.
---
CONTACT
For pricing and availability call 941-228-5048 or 941-266-7894